Look, a visual identification method is in the bag in the face of the light or the sun, can see light through the bag is coated with aluminum foil, invisible is pure aluminum foil.Aluminum foil bag is not transparent appearance, a silvery white, can the luster.The brightness of the aluminum foil compared with aluminum plating is a bit weak, so the aluminum foil reflective good sex less than aluminum plating film, aluminium bag can reflect figure, except extinction film aluminum plating.Extinction film plating aluminum and aluminum foil very approximate appearance.Can the bag mouth, through the light bag, aluminum foil bag inside not pervious to light, pervious to light is aluminized bag.
Touch, aluminum foil bag of grip and crisp thick hard, heavy, feel of aluminized bag than aluminum foil bag is light and soft.Because pure aluminium bag is soft material, has a certain range, and aluminium bag is brittle.We can put the aluminum foil bag and aluminum plating folded, Aluminum foil bag is easy to fold out dead plait mark aluminized bag won't fold into dead plait, and will rebound soon.Can also pull the aluminum foil bag and aluminized bag, aluminum foil bag pulling after coalescence is not easy to rebound, aluminum layer will appear rupture.Will soon after plating aluminium bag pulling NiuJieChu will play out, aluminum layer there would be no obvious cracks.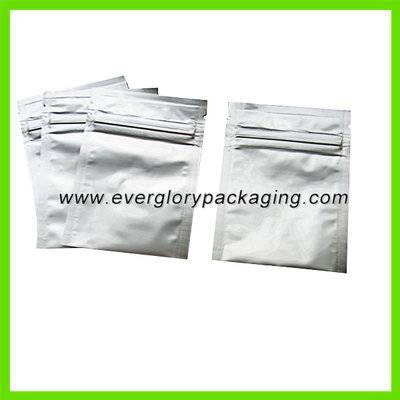 Fire, fire won't burn, aluminum foil with aluminum layer will rollback, the aluminum foil packing will leave after burn gray aluminum slag.Aluminum plating film can appear different plastic film when fire burning, no residual aluminum slag.
Our main products are: grape pouch bag, plastic packaging bag, aluminum foil bag, stand up pouch, ziplock bag, food packaging bag, produce packaging bag, cosmetic packaging bag, clothes packaging bag, whey protein powder bag, tea bag, fishing lure bag, facial mask bag, tobacco pouch, coffee bag and so on.
We have already assessed and to comply with ISO9001:2000, ISO14001:2004 and QS certification. We do our best to make sure our product quality and environmental protection requirements attains international standard.
Please contact us if necessary, send an email to susan@everglorypackaging.com